Internashonal
Kristin Davis Breaks Down In Tears Remembering Late 'Sex And The City' Co-Star
The two paid tribute to the actor, who portrayed the inimitable Stanford Blatch on the series, while on "The Late Show With Stephen Colbert" on Tuesday.
Garson died in September at age 57, just as the cast was shooting the HBO Max revival series, "And Just Like That…"; he was there for filming during the first three episodes.
"Willie was just a person who just lightened any situation that he was in," Nixon said, as Davis reached to hold her hand.
Davis added that the actor was "full of joy, and so incredibly brilliant and smart."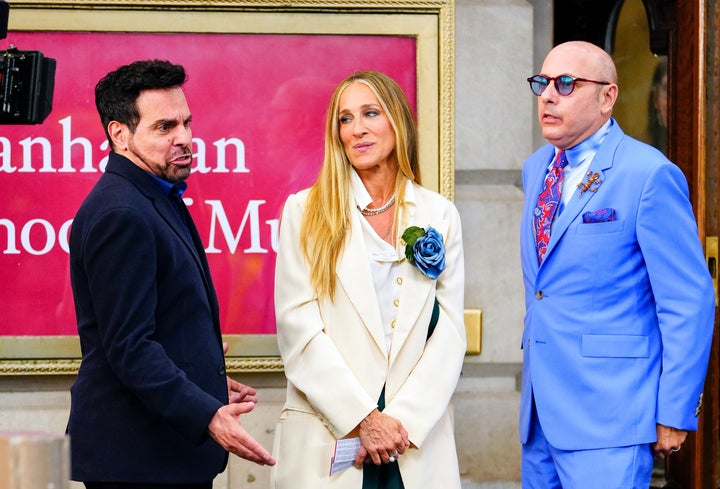 "Even being sick, which we didn't know about in the beginning, he still brought so much joy," she said.
Nixon said the cast "shot with him for a long time not knowing he was sick and then things got bad enough that we were informed."
"We were also very grateful that we had a few days with him knowing that he was sick," Nixon explained. "And we could talk to him about it and he could talk to us about it. And that, I think, was a really important thing for all of us."
"But it's hard," Davis said through tears. "I wish he was here, you know?"
All of the "Sex and the City" stars posted moving tributes to Garson, who died of pancreatic cancer, in September.
Nixon described Garson as "endlessly funny" and a "source of light, friendship and show business lore."
Davis said her friend was "smarter and funnier than you ever would have imagined" and also saluted his "fearless commitment to single fatherhood."
"We spoke about being single parents through adoption often," she said. "And nothing gave him more joy and pride than his son Nathen. Nathen's strength and wisdom beyond his years are evident in his beautiful tribute to his dad. The outpouring of love is earned dear Willie."
"I am thankful for all of the time we had and grateful that so much of your bright light is on film forever," she added. "Maybe we can do our podcast the next time around? We love you forever xoxo."